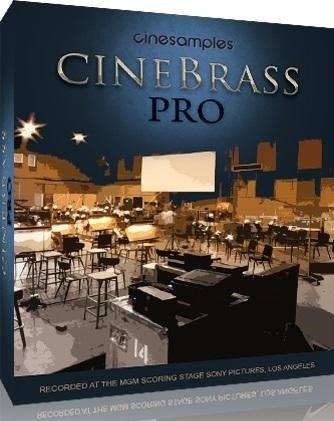 Издатель: Cinesamples
Формат: KONTAKT
Качество: 24 bit 44.1 kHz stereo
Размер: 20.01 GB
CineBrass PRO — это расширение популярной библиотеки CineBrass Core. CineBrass PRO — это совершенно отдельная и уникальная библиотека, состоящая из совершенно нового оркестрового сэмпла латуни, в котором участвуют первоклассные музыканты из Лос-Анджелеса на этапе подсчета очков SONY, смешанном с Деннисом Сэндсом. Наша библиотека CineBrass CORE, выпущенная в июне 2011 года, охватывает основы оркестрового духового оркестра и служит прочной основой в наших шаблонах. Но как насчет других вещей, которые может делать медь? Мы спросили вас, сообщество кинематографистов, что вы хотели увидеть в дополнении. Результатом является CineBrass PRO.
[spoiler title='Дополнительная информация']Once again we've reunited the heralded team of LA's finest crew and musicians to bring you something truly remarkable. At the heart of this expansion are the finest collection of brass soloists ever sampled. Hollywood's current first chairs recorded in the unequaled space of Sony's MGM Scoring Stage by famed engineer Dennis Sands. This quartet of soloists (trumpet, Horn in F, trombone and tuba) received full treatment including true legato, shorts and multiple dynamic layers. You will immediately be startled by the sheer power, expressiveness and clarity produced by these master virtuosos. Under the direction of esteemed composer/violinist Michael Levine came a set of perfectly cinematic FX designed for practical realization in your sequencer. In the vein of the ever popular cineorch comes a complete palette of chords voiced by the different brass choirs culminating in a super-sized "low brass chords" sure to garner some attention. Fulfilling a common request we also captured a variety of stops and mutes for all ensembles. The features don't end here as this expansion features twice the content of the original library.
PATCH LISTING:
01 Trumpet Solo Articulations
02 Trumpet Solo True Legato PRO
03 Trumpets Ensemble Sustains and Tenuto
04 Trumpets Ensemble Muted Articulations
05 Trumpets Ensemble Harmon Mute Articulations
06 Horn Solo Articulations
07 Horn Solo True Legato PRO
08 Horn Ensemble fff Sustains and Shorts
09 Horn Ensemble Stopped
10 Horn Ensemble Fluttered
11 Horn Ensemble Triad Chords
12 Horn Ensemble Seventh Chords
13 Horns Ensemble Rips
14 Twelve Horn Ensemble Articulations
15 Twelve Horn Ensemble True Legato
16 Twelve Horn Ensemble MutesSplit Patches
17 Trombone Solo Articulations
18 Trombone Solo True Legato PRO
19 Trombones Ensemble Muted Articulations
20 Trombones Ensemble Harmon Mute Articulations
21 Trombones Ensemble Flutter
22 Tuba Solo Articulations
23 Tuba Solo True Legato PRO
24 Full Ensemble FX Part 1
25 Full Ensemble FX Part 2
26 Full Ensemble FX Part 3
27 Full Ensemble High Chords
28 Full Ensemble Low Chords
29 Monster Low Brass Articulations
30 Monster Low Brass Scoops
31 Monster Low Brass Clusters
32 Monster Low Brass FX
Split Patches
WHAT'S NEW IN CINEBRASS PRO 1.7:
CINESAMPLES' ADAPTIVE LEGATO ENGINE
CineBrass PRO v1.7 has been rebuilt from the ground up to include the Cinesamples Adaptive Legato Engine featured in CineStrings SOLO, CineStrings CORE, and CineWinds CORE and PRO. It allows you to tailor the legato response to your own playing style, and is designed to respond musically to your performance. The engine detects your playing speed and intelligently adjusts the interval speed to match. This means you can play slow, expressive lines and fast runs in a single performance, without touching the speed dial. Additionally, the intensity parameter responds to velocity.
PATCH CHANGE
The Horns Ensemble Stopped and Fluttered has been split into two different patches: Horn Ensemble Stopped and Horn Ensemble Fluttered
NEW MAPPING TAB
CineBrass PRO includes a brand new mapping area that allows for greater flexibility in customizing composer workflows. The new mapping system allows for articulations to be blended together, using polyphonic keyswitching or overlapping velocity/CC ranges. This allows for even more flexibility for tailoring CineBrass PRO to your individual needs. You may add articulations using the + Add Articulation + button and subtract articulations using the X on the right. The ACCENTED LEGATO control layers an additional articulation (Marcato, Staccato, Spiccato) over legato transitions.
[/spoiler]