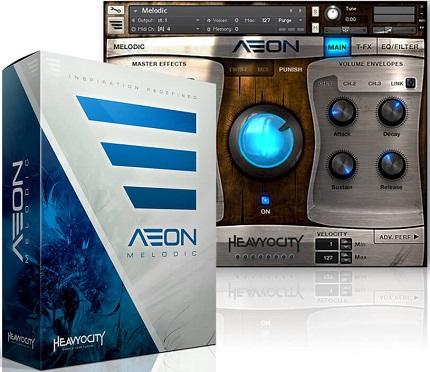 Издатель

: Heavyocity




Сайт

:

Heavyocity


Формат

: KONTAKT




Качество

: 24 bit 44.1 kHz stereo
Размер:

11.96 GB
От лирического и выразительного до темного и агрессивного, AEON Melodic предоставляет вам 25 ГБ (12,86 ГБ на диске) органических и синтезированных мелодических инструментов, арпеджированных инструментов и эпических One-Shots. Эта уникальная коллекция сочетает в себе традиционные, этнические и оркестровые инструменты с обжигающими синтезаторами и острыми сэмплами, и все они созданы с фирменным качеством Heavyocity.
Дополнительная информация

Twist, Punish, Effect
Globally affect the preset with one of the 4 Master FX (Delay, Mod, Drive, and Convolution). You have control over four effect-specific parameters (like effect amount, rate, size, or depth). Dial in the aggression with the signature "Punish" Knob, a combination of saturation, distortion, and compression. Or, modulate the shape of the sound with the new "Twist" knob.

Master Your Sound
AEON'S user interface was designed FOR composers and sound designers BY composers and sound designers, providing simple, intuitive ways to alter the sounds without leaving the interface. Similar to DAMAGE, three levels of effects are intrinsically bound to the Melodic and Rhythmic Components — apply effects globally, engage the Advanced Trigger-FX, or tweak individual sounds.

Instrument Details
The sound of AEON comes from a combination of deeply sampled Organic Instruments, Racks of Analog Modular Synths and Fx, and an advance arsenal of FX all housed in the Kontakt 5 Player Engine. All of the instruments and arpeggiated presets are designed to complement one another, and are split up into Organic, Organic Arp, Synth, Synth Arp, Hybrid, and the Signature Aeon Hits.

Play
AEON offers over 130 multi-sampled melodic instruments and 80 Synths and Basses (ranging from pristine and ethereal to punchy and aggressive). Sculpt your tone with per-channel Tune, Pan, Level, and EQs or add sizzle and punch with the 4-band Master EQ. New in AEON is the ability to control the modulation of filters with an envelope or LFO. Alter the amount and rate of an LFO, or trigger the Filter with an ADSR envelope. The tonal sister of the signature 'Damage Hits', The unique 'AEON Hits' consist of complex melodic one-shot impacts. Perfect for adding an epic quality to your track.

Arpeggiate
AEON's advanced arpeggiator allows for composition of melodic and rhythmic phrases. Load one of the 5 factory presets, or save your own for use in any preset. You have full control over step amount and can adjust time signature, note subdivision (straight or triplet), individual note duration, pitch, and velocity. There are also controls for retrigger, glide, poly/mono, octave randomizing, and playback type (chord, pairs, etc). It includes 8 fully customizable and linkable patterns per preset to create long and intricate melodic phrases (up to 128 steps).

Effect
Three levels of effects are intrinsically bound to the presets — apply effects globally, trigger performance effects, or tweak individual sounds. Master Effects control distortion, reverb, delay, and modulation. The Advanced Trigger FX (pictured here) are switchable real-time effects with incredible scope for intuitive, creative sound-tweaking. Control the attack and decay of each triggered effect, or turn on the sequence, and modulate the effect in time. The Punish and Twist knobs preside over everything, adding signature drive and character.

The Sound of AEON
Organic Instruments
Over the course of two years, Heavyocity captured in-depth recordings of a wide array of instruments. Over 10,000 samples were recorded at 48 kHz, 24-bit in world class studios. Instruments ranging from Tuned Cowbells and Upright Bass to pristine Crotales and Harps provide you with a vast range of timbres at your fingertips.

Unique Ensembles
AEON provides a vast range of sampled material including a number of unique ensembles. Performed in unison, these ensembles were made up of instruments like Tuned Dinner Bells, Stringed Oil Cans, and Plucked Guitar.

Pure Analog Synth
For AEON, Heavyocity captured true analog fatness from a combination of modular analog synth rigs. Carefully crafted, tuned, and tracked, these sounds range from serene to horrifically aggressive.