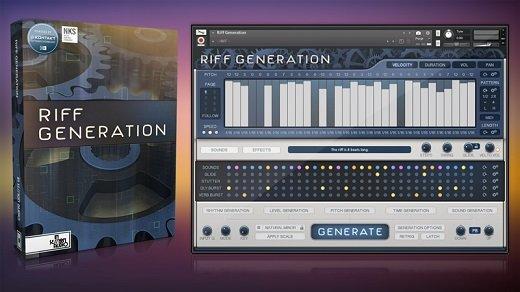 Издатель

: In Session Audio




Сайт

:

In Session Audio


Формат

: KONTAKT




Качество

: 24 bit 48 kHz stereo
Размер:

2.45 GB
Основываясь на наборе музыкальных параметров, которыми вы управляете, Riff Generation создает захватывающие, сложные и удивительные сочетания мелодии, ритма и звукового дизайна одним нажатием кнопки.
Доп. информация

ONE ENGINE – FOUR BENEFITS

SOUND
Heavy-duty sound design through the generative process, creating riffs that can glide, stutter, burst through effects and change sound on a step-by-step basis.

ADAPTIVE
Riffs adapt to tempo, key, scale and currently played note. MIDI files for any riff can be exported directly from the interface via drag-and-drop. Or send MIDI out in real time to other virtual instruments!

GENERATIVE CONTROL
A musical range of options allow the generative process to be directed by the user.

LOADED
Song starters, ambient melodies, basslines, noisy leads, pluck-laden pulses and generation templates spread over 325 patches.

What´s News

Riff Generation — v1.5.1 (Update September 30, 2019)
— This update corrects an issue where an undesired «click» sound could be produced between steps when using the sequencer grid for panning.

—————————————————
Riff Generation — v1.5 (Update July 15, 2019)
— Riff Generation now has the ability to store and switch amongst multiple riff patterns within the same snapshot patch.
Previously, only one riff (using up to 256 steps across eight pages) could be stored per patch.
But when switched to the new "Scene" mode, you have access to eight slots, each of which can contain its own pattern, up to 32 steps in length.

Changing amongst patterns can be done using keyswitches, with further options to decide if each newly switched pattern should start at its beginning or keep the current place in time, relative to when you triggered the last pattern.

— Copy and paste "Scene" patterns from slot to slot, as needed.

— This update also corrects an issue where MIDI files exported via the drag-and-drop function would sometimes not properly reflect the currently selected scale type.

— Additional: Because Riff Generation was released before Maschine and Komplete Kontrol had Snapshot preset audio preview capability, Riff Generation never included the files necessary for this option. Eventually, Native Instruments created and provided an update for all "pre-preview" NKS libraries, including Riff Generation. However, the preview files they provided didn't account for tempo and were often truncated, thus not providing the most accurate preview possible.

This update provides a fully revised set of preview files which get added as you add the new Snapshots to your existing library.