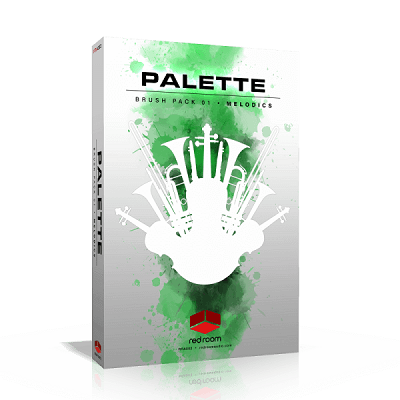 Издатель

: Red Room Audio




Сайт

:

Red Room Audio




Формат

: KONTAKT




Качество

: 24 bit 44.1 kHz stereo
Размер:

36.51 GB
18 вдохновляющих мелодичных оркестровых инструментов! 12 самых драматичных и мощных оркестровых комбо плюс 6 солистов, отобранные из произведений наших любимых кино и классических композиторов. Каждое комбо было записано вместе (НЕ искусственно написано!). До 9 основных артикуляций на инструмент, включая истинное легато. 36 ГБ и более 130 000 сэмплов! Kontakt Player и NKS совместимы. Теперь обновлено до версии 1.2!
Доп. информация

WELCOME TO PALETTE!
Palette is a series of thematic professional orchestral and cinematic Kontakt virtual instruments for songwriters and media composers. It was recorded in a dedicated hall with world-renowned performers by a passionate and experienced team of sample makers. It was a dream come true for us to make and we hope this expansive set of scoring tools inspires you to write some great music.
There's an awful lot of content here, so to make things more accessible we divided it into multiple products. The first is "Palette – Symphonic Sketchpad," which contains the building blocks to quickly and easily bring your cinematic ideas to life. Then, to add detail and color to your compositions we've put together additional tool sets we call "Brush Packs." These brush packs do not require that you own Symphonic Sketchpad, but focus on deeper and more specific scoring elements like orchestral FX, percussion loops or true-legato melodic ensembles. This modular approach allows you the opportunity to pick up the tools you want and not the ones you don't. Since all Palette instruments were recorded in the same hall by the same production team and the same musicians, they complement each other perfectly.

MELODICS – COMBOS & SOLOISTS
The concept for Palette – Melodics is simple. We studied the scores of several of our favorite classical and modern film music composers (which was a most enjoyable exercise!) and selected 18 of the most evocative melody-carrying combinations and instruments. We recorded a soaring violin section playing octaves, regal trumpets with horns, playful flutes & piccolo, creepy bass clarinet & contrabassoon octaves, a gigantic and downright frightening low strings & low brass ensemble and many others. We felt it was also important to include soloists since they are so often used to deliver a melody, so we recorded 6 of those as well. 17 of the 18 instruments in the library have true legato (the exception being our Trombones & Tuba).

You are not, however, limited to using "Melodics" for melodies. The instruments feature up to 12 common articulations (most include 4 different kinds of short notes!) and can therefore also be used for traditional orchestral writing to add unique colors to your compositions.

Our soloists were recorded in standard orchestral seating position with 3 microphone perspectives – close, decca tree and hall. For the combos we added a second close mic (4 total mics) so you have some control of each individual instrument. The room is spacious but fairly dry, with only a 1.2 second tail, which allows for easy blending with other libraries using your favorite reverbs, so you're not limited to the sound of one particular hall. Since "Palette – Melodics" was recorded by the same amazing musicians and production team with the same equipment and in the same hall, it was designed to blend perfectly with all the other Palette libraries.