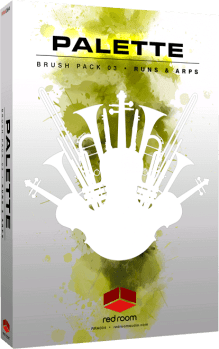 Издатель

: Red Room Audio




Сайт

:

Red Room Audio




Формат

: KONTAKT




Качество

: 24 bit 44.1 kHz stereo
Размер:

2.18 GB
Самая полная библиотека оркестровых пробежек и арпов! Представляет как струнные, так и деревянные духовые ансамбли, исполняющие гаммы в 6 общих режимах, в каждом из которых до 13 вариаций, плюс 20 видов арпеджио. Всего более 1600 неподписанных, реально записанных фраз! 3 позиции микрофона, 8-слотовая встроенная стойка FX и перетаскивание MIDI-данных. Kontakt Player и NKS совместимы. Теперь обновлено до версии 1.2!
Доп. информация

WELCOME TO PALETTE!
Palette is a series of thematic professional orchestral and cinematic Kontakt virtual instruments for songwriters and media composers. It was recorded in a dedicated hall with world-renowned performers by a passionate and experienced team of sample makers. It was a dream come true for us to make and we hope this expansive set of scoring tools inspires you to write some great music.
There's an awful lot of content here, so to make things more accessible we divided it into multiple products. The first is "Palette – Symphonic Sketchpad," which contains the building blocks to quickly and easily bring your cinematic ideas to life. Then, to add detail and color to your compositions we've put together additional tool sets we call "Brush Packs." These brush packs do not require that you own Symphonic Sketchpad, but focus on deeper and more specific scoring elements like orchestral FX, percussion loops or true-legato melodic ensembles. This modular approach allows you the opportunity to pick up the tools you want and not the ones you don't. Since all Palette instruments were recorded in the same hall by the same production team and the same musicians, they complement each other perfectly.

RUNS & ARPS
"Palette – Runs & Arps" is the most in-depth virtual instrument for real recorded (not scripted) orchestral scales and arpeggios ever assembled. We felt there was simply no better way to capture the emotion and subtle nuances of these unique articulations than to record them in their entirety, versus trying to cleverly combine samples to produce artificial phrases. Therefore we went the extra mile and recorded both strings and woodwinds ensembles playing scales in 6 primary modes – Major, Natural Minor, Harmonic Minor, Melodic Minor, Whole Tone and Chromatic – each with up to 13 variations. There are also 20 kinds of arpeggios in 4 modes – Major, Minor, Diminished and Augmented. Every run/arp has 2 round robins and can be performed in every key and can sync to your host's tempo. In total, "Palette – Runs & Arps" includes over 1600 performances!

The modern and easy-to-use GUI always displays the notation for the current run/arp so you can visualize exactly what the orchestra is doing. For composers creating mockups who plan to deliver finished scores to an orchestra, we've also included the ability to drag and drop MIDI data for every performance to your DAW. You could also use this to easily layer the performances with other samples. We've added several convenient Settings features like Downbeat Sync, which ensures that the final note of the performance always lands on count 1 of the next measure. Tempo controls allow you to sync to your host tempo or set the BPM manually. The "In Quantize" knob quantizes the start of the performance to the note value of your choice. There's also a powerful 8-slot FX rack where you can select from 19 high quality FX.

As with the entire Palette line, our players were recorded in standard orchestral seating position with 3 microphone perspectives – close, decca tree and hall. The room is spacious but fairly dry, with only a 1.2 second tail, which allows for easy blending with other libraries using your favorite reverbs, so you're not limited to the sound of one particular hall. Since "Palette – Runs & Arps" was recorded by the same amazing musicians and production team with the same equipment and in the same hall, it was designed to blend perfectly with all the other Palette libraries.